Art Graffiti in the City (AGC) is a nonprofit (AMKE) based in Athens, Greece but it aspires to be active around the globe. Its primary research field is arts and culture in contemporary urban public spaces. More specifically, AGC critically investigates, processes and assesses, in an interdisciplinary manner, how graffiti -tagging and street art- affect and interact with preserved monuments, urban landmarks, antiquities, and public art works. AGC is also a pioneer in Greece regarding the examination of how the above affect local business, residents, visitors, and tourists. AGC focuses its research on select historic city centers in Greece and abroad. For more information, visit their Facebook page.
This is an interview with the President of AGC, Barbara Kondilis, and its Chief Art Consultant, Kalliope (Popi) Koundouri.
How did you become interested in philosophy?
Barbara: Philosophy of mind, and eventually working with individuals and groups utilizing cognitive behavior therapy as a certified social worker and wellness counselor brought me back to the basics. It is my belief that we can use philosophy to transform individuals and communities for the better, in urban and suburban environments, through open dialogue but also via public art. In my younger years I could be found wandering while working in the Museum of Fine Arts in Boston, in my attempt to come closer to the cultures and pieces I so much admired, to attempt to understand the inspirations and aspirations. How can life be without art, music, science, and philosophy?
Kalliope:  I was a restless youth. Initially, I found philosophy, as a general term, to be a logical mechanism which penetrates the bedrock of both inner reality and the outer word to reach the core of things and humans; their essence or quintessence, in a remotely Aristotelian sense. Pursuing further studies in art, I inevitably crossed paths with aesthetics. It was a crash and a crush at the same time!
Lastly, for the past 7 years, I have been privileged to teach an Intro to Philosophy (Highschool level), and Ancient Greek Philosophy 101 to my Hellenic American University (HAU) students.  Although I find the often market-driven ill-handling and ubiquities of philosophy nowadays – as a panacea – to be a degenerating factor, and although I am also appalled by formalist and stagnant wit games between some of today's "popular philosophers", I remain still an amateur aficionado of the discipline.
AGC: The public space and/versus the individual/citizen debate is a privileged ground for philosophical inquiry now perhaps more than ever in the story of mankind. We are set on exploring the socio-aesthetic and ontological reverberations of that debate on the city walls and other public places, and the outcomes of this tension for society.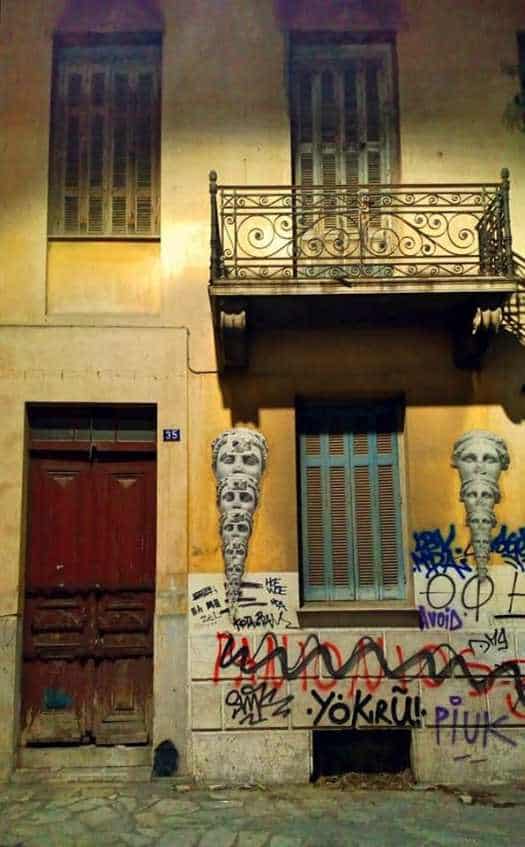 What's the most important concept or idea that you teach people?
Barbara: Becoming global citizens, in the modern sense, and reflecting on what it means to be a consciously-engaged citizen resembles what Socrates and Plato taught in ancient Athens. This idea was followed by the Roman Emperor Marcus Aurelius, and other ancient thinkers, and it has continued to influence our present popular or motivational speakers, as well as college and university professors, even beyond classics departments. Aligning the goals of Liberal Arts Colleges and Universities with this ideal would entail promoting the fundamentals of democracy, social justice, and public health, including personal and social responsibility in the globalized world. These values are fundamental to my core teachings. Success for students, in other words, requires opening their eyes to possibilities, and a better future.
Kalliope: That is tough one to tackle. Having "γνώθι σεαυτόν"- "gnothi seafton" as a milestone, that the individual is/should not be an island, that we are all interconnected not just between us, but principally with the world around us.
AGC: Graffiti, in its varied manifestations, is by now a serious constitutional cultural element which massively contributes to the shaping of what is perceived as the contemporary face of cities. It is often open for osmosis, but also a battlefield for controversy. In spite of its innate facets, such as locality, transience and temporaneity, graffiti can also be inscribed in both our material and immaterial heritage, in the form of a hybrid, and be incorporated in the archival memory of the city.
What do you think is the most important piece of practical advice that we can derive from your work?
Barbara: The interplay of disciplines can apply to any situation, and the environment and physical structure of communities and their walls can affect people's inner worlds.
Kalliope: Talent and vision go hand-in-hand with hard individual and group work.
AGC:
If you want to learn about a city, look at its walls

INO, internationally acclaimed Greek street artist
Do you have a favorite quote that you use?
Barbara:
Faith is taking the first step even when you don't see the whole staircase.

attributed Martin Luther King Jr.
Kalliope: It is indeed a Herculean feat to choose from some many intellectual milestones! I would go for the first thing that came to mind:
Every form of knowledge when sundered from justice and the rest of virtue is seen to be plain roguery rather than wisdom.

Plato, Menexenus, 247a
AGC:
 

Urban street space is a space for debate […] A space where word becomes writing. A space where word becomes "primitive" and, by escaping from rules and institutions, it is inscribed on walls.

H. Lefevre
What advice would you give someone who wanted to learn more about what you do?
Barbara: Take a walk with me in the city streets to get a snapshot of what is going on for better or worse. It will allow for the senses to better take in the experience.
Kalliope: Join us on our journeys into the city's underbelly. Then visit our Facebook.
AGC: Walking around in the city, one sees that the walls speak. Α cultural palimpsest is unfolding in an ostensibly chaotic visual narrative, and this is the subject matter of contemporary urban space, both public and private.
Suppose you were able to give a talk or workshop at the original location of Plato's Academy, in Athens.
Barbara: Privileged and ecstatic about sharing our 'in- group' knowledge with the greater population in understanding at a more intimate level the interplay of environment, individual, and transforming, or simply observing and recognizing patterns.
Kalliope: Humble, empowered, proud.
Then, most excellent friend, we must not consider at all what the many will say
of us, but what he who knows about right and wrong, the one man, and truth
herself will say,